Monday, April 14, 2014
Digital Storytelling Conference 2014
Monday, March 17, 2014
Next Generation eBook Review: The Glo Bible: Surprising Lessons We Can Learn from Religious eBooks
Monday, March 10, 2014
You're Doing Web & eBook Footnotes Wrong
Monday, March 03, 2014
Inkling Habitat: How a 100,000 Line JavaScript Application Focused on Digital Publishing is Built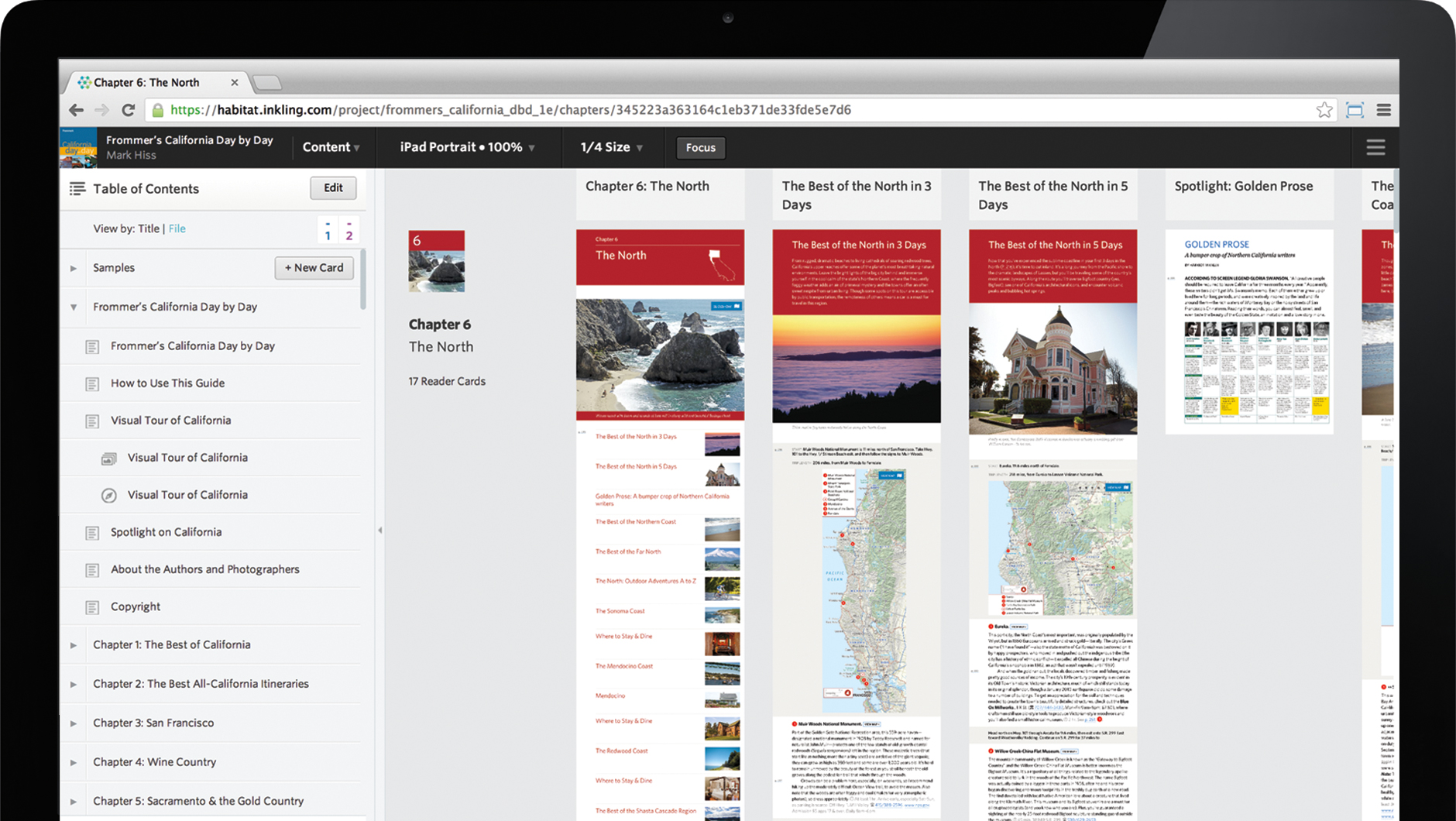 Last week
I introduced you to one of the original animating ideas behind
Inkling Habitat
, treating books as software to transform the eBook production process. Today I'd like to take you behind the scenes and show you the technologies and processes we used to build Inkling Habitat itself. How did we build this software?
How is Inkling Habitat Built?
First, Inkling Habitat is a client side application that runs inside your web browser, built with JavaScript, HTML, and CSS. The client-side portion is roughly 100,000 lines of JavaScript, which is a big application.
Read more...
Tuesday, February 25, 2014
Transforming eBook Production by Treating Books as Software
Monday, February 17, 2014
You Are Not in the Book Business: You Are in the Long Form Content Business
Monday, February 10, 2014
Making EPUB3 Play Nice with HTML5
Tuesday, February 04, 2014
What Early Rome Can Teach Us About Power & How We Lie to Ourselves
Monday, February 03, 2014
Does EPUB3 Have Any Place in an HTML5 Universe?
Friday, January 31, 2014
Maybe U.S. Manufacturing Isn't As Bad As We Thought...
Thursday, January 30, 2014
Design Tips from a Design Pioneer
Sunday, January 26, 2014
My Impressions of Digital Book World 2014
Sunday, January 19, 2014
The Three Things that Can Transform eBook Development
Thursday, January 16, 2014
The Start of Coworking (from the Guy that Started It)
Monday, January 13, 2014
Introducing Stretchtext.js: Easily Communicate to Different Audiences in a Single Page
Monday, December 16, 2013
Away for Honeymoon
Friday, December 13, 2013
Touch Press: Complexities and Challenges of Creating Rich Digital Books
Thursday, December 12, 2013
IBM 1401: A User's Manual, A Beautiful and Haunting Orchestral Score
Wednesday, December 11, 2013
Why Chrome Should Support Better Hyperlinks
Tuesday, December 10, 2013
Publishing Vs. Community, Books Vs. Databases
Monday, December 09, 2013
See the System Behind Engelbart's Historic Mother of All Demos
Sunday, December 01, 2013
What a Next Generation Classic Should Look Like: Touch Press' The Waste Land
Monday, November 25, 2013
Converting Print Books into eBooks Using Radically Smart Templates
Monday, November 18, 2013
How a Next Generation eBook is Made
Monday, November 11, 2013
Learn about the Little-Known iPad-like Device from the 1980s That Inspired Hypercard
Monday, November 04, 2013
Next Generation eBooks Need Marketing Hustle
Monday, October 28, 2013
The eBook Interview: Meagan Timney, What Academia and UX Design Can Teach the Commercial eBook World
Monday, October 21, 2013
The eBook Interview: Liza Daly, From Interactive Fiction to Digital First Publishers
Monday, October 14, 2013
A Next Generation Music Education eBook: Inkling vs. Kindle
Monday, October 07, 2013
Books That Never Should Have Been Books
Tuesday, October 01, 2013
From Thailand, to Coworking, to HTML5, Now to Next Generation eBooks: Refocusing My Blog
Subscribe to Posts [Atom]