New SVG Web Release: Owlephant
The
SVG Web
team is proud to announce a new release. SVG Web is a drop in JavaScript library that makes it easy to display SVG graphics on Internet Explorer 6, 7, and 8 using Flash.
The new SVG Web release, like all our releases, is named after
especially silly D&D monsters
. The new release is code named Owlephant: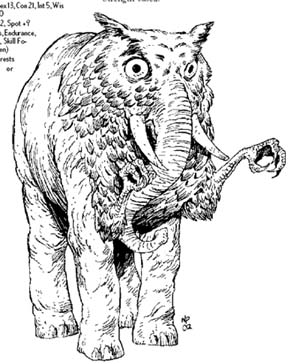 You've heard of Elephants, you've heard of Owls… put them together and you get the fearsome Owlephant. If you encounter one, be sure it will be the last thing you ever, um, encounter. Hoot…. stomp!
With this release we now score 55.45% on the
SVG compatibility charts
, almost at the same level as IE 9 (58%).
Major aspects of this new release includes overhauls and fixes for gradients, clipping, events, text placement, and more. It also includes a huge step forward in SMIL animation support, including being able to animate path segments and interpolate their values, scripting SMIL with JavaScript, and more.
This release has been built by the community, with major contributions from Bruce Duncan from
VisualMining.com
; Ken Stacey from
SVGMaker.com
; and the always awesome (and project co-leader) Rick Masters. Thanks to the many people like Michael Neutze, Bruce Rindahl, and more for their bug testing and evangelism!
Everything fixed in this release:
Download the release now
and
get started
!
Please note that there are some breaking changes in this release that will affect code that uses older versions of SVG Web; more details
here
. Also note that SVG Web does not yet support the native SVG functionality in IE 9 preview releases.