New SVG Web Release: Watch Out for the Lurker Above!
A new SVG Web release is out, code named Lurker Above!
The Lurker Above is a classic Dungeons and Dragons monster, attaching themselves to dungeon ceilings and dropping down to surprise unwary adventurers: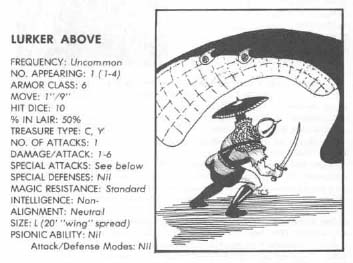 SVG Web is an open source drop-in JavaScript library that provides SVG support to Internet Explorer 6, 7, and 8 by transparently using Flash.
Some highlights of the Lurker Above release:
* Internet Explorer 9 is now supported!
* Lots of bug fixes
* More SMIL support and fixes
* Support for SVG Web when used in iframes
* data-path attribute is now optional and inferred when using SVG Web
*
and more
!
Special thanks to Rick Masters for sheparding this release, and to all the bug fixes and help from the SVG Web community!
Download the release now
and
get started