New Screencast of Douglas Engelbart's Augment System, First System with Hyperlinks, Groupware, Outlining, and More
I've created a screencast showing
Douglas Engelbart
's ground breaking
Augment
software. This screencast takes viewers through many of Augment's amazing features, first implemented in the late 1960s, including hypertext, groupware, outlining, and more. If you have ever wondered what Augment looked like, and how it was the first to implement such features as email, then you should enjoy this screencast.
The screencast uses a
Java terminal emulator
to sign into Douglas Engelbart's last-existing copy of Augment, running on an emulated PDP-10. It shows the following features:
An Introduction to Augment and it's user-interface
Advanced hypertext features, viewing and browsing documents, and transforming documents using Augment's "ViewSpecs"
Creating Augment documents and outlines and inserting links
Using Augment email, conferencing, and more
The full screencast is about 15 minutes long; there is a user-interface to jump right to particular sections if you are interested in just some features.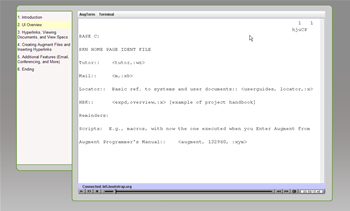 This screencast is being produced as part of the Hyperscope project, an NSF-funded project to recreate portions of Engelbart's Augment system on the World Wide Web.