Wednesday, April 19, 2006
My Ajax Book is Out!
The Ajax book I contributed to,
Ajax Hacks
, is out! Last week I was wandering the aisles at Borders in San Francisco and stumbled on to it; I hadn't realized it is on shelves yet. I have five Ajax hacks in the book:
Hack 35. Create Large, Maintainable Bookmarklets
Hack 36. Use Permanent Client-Side Storage for Ajax Applications
Hack 37. Control Browser History with iframes
Hack 69. Handle Bookmarks and Back Buttons with RSH
Hack 71. Improve Maintainability, Performance, and Reliability for Large JavaScript Applications
Check out the book on Amazon: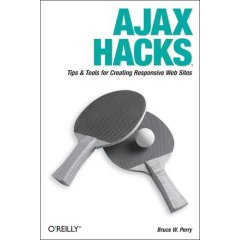 Comments:
So frustrating when you see your work in a bookstore before you get your free copy. When I contributed to Spidering Hacks I received the book about 1-2 weeks after I first saw it on the shelf.
Hey, did you ever get the history stuff working with Safari?
I was hacking my own version of history and managed to get the back button working with Safari.
The way I did it is really strange, but works, oddly enough. Check out the function "getProperHash" to see how I did it.
You can look at the code here:
http://tools.assembla.com/history/browser
Thanks for the inspiration, by the way.
Post a Comment
Subscribe to Post Comments [Atom]
<< Home
Subscribe to Posts [Atom]