Coworking Christmas Bash
Update: The party starts at 7 pm.
The San Francisco Coworking space is having a holiday party!
Join us this Wednesday at the Lone Palm for a Coworking Christmas bash! Bring some warmth to the cold Christmas season with community, eggnog, and friends. Everyone is invited, so feel free to drop on by!
The Lone Palm is located at 3394 22nd St, near Guerrero Street in San Francisco . It is across the street from the coworking space.
View pictures and info about the Lone Palm
.
What is Coworking?
Coworking
is community office space for self-employed developers, writers, designers, playwrights, programmers, and more.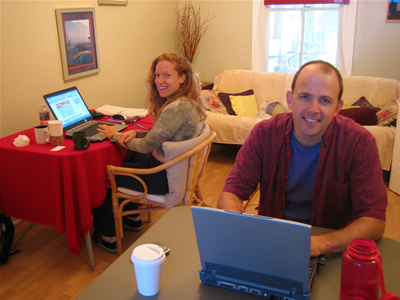 Coworking members have access to free WiFi; a beautiful garden; support in setting and achieving work goals; a full kitchen and attached coffee shop; a healing space with massage therapists; and more.
Our office is in a beautifully converted Victorian in San Francisco. We meet Monday and Tuesday, from 9 AM to 5:45 PM.
Coworking is a non-profit co-op with low, monthly rates.
For pictures of the coworking space and more information see our web site at
http://codinginparadise.org/coworking
.
I hope to see you there!