I Found the Creative Commons License on an SF Street Mural!
The
Creative Commons
license must be really taking off. On Friday night I attended a release party (see
1
,
2
, and
3
) for Dan Gillmor's new book,
We the Media
, which is under a Creative Commons license (for the record, its the
Attribution-NonCommercial-ShareAlike 2.0 License
).
Today, while walking down the street, I saw a new mural by
Mona Caron
that has popped up on Church street near Market. It's an amazing mural; it is divided into strips, with each strip showing a different decade here in San Francisco. The final strip shows a possible future for the city. The mural is large, so I couldn't take a single photo of it; here are three photos that show different portions: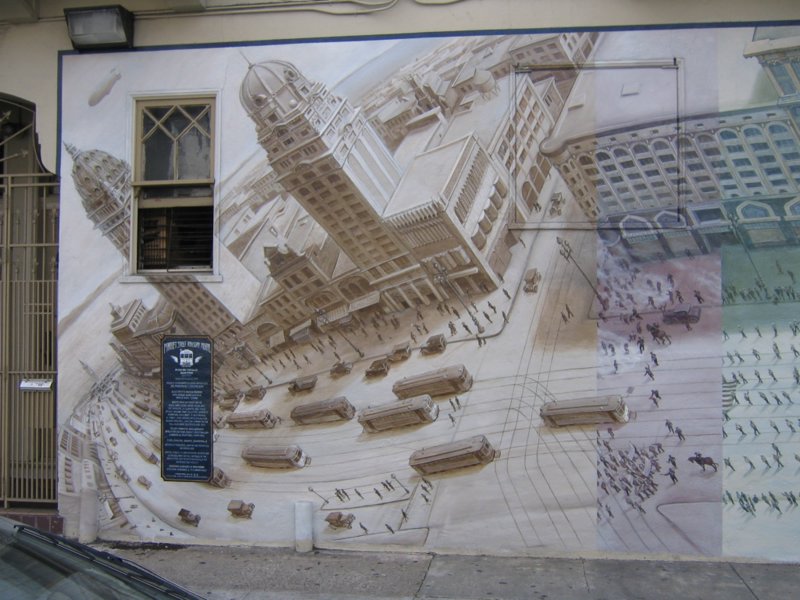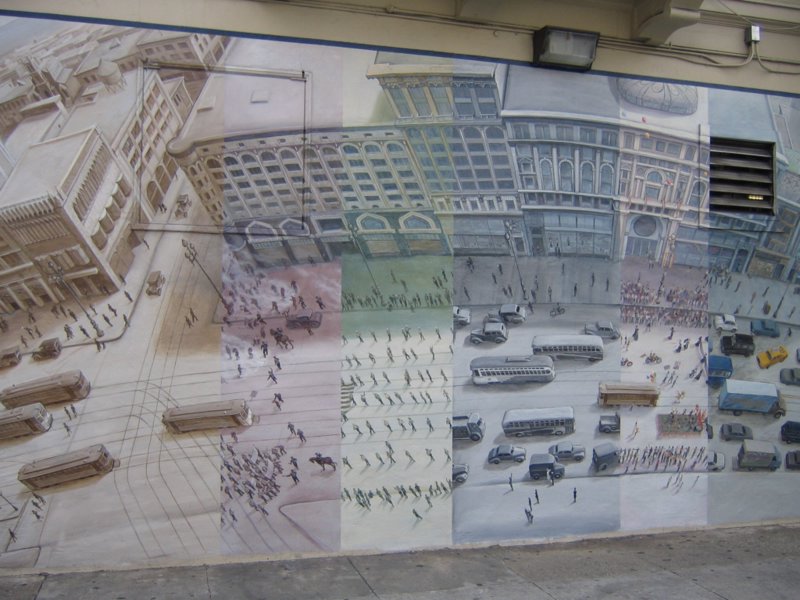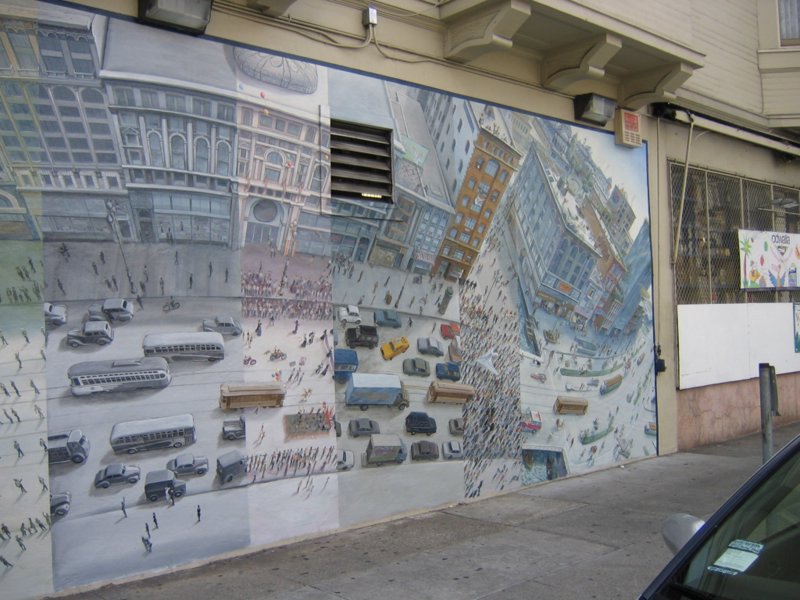 And here's the craziest part; in the credits portion is a full Creative Commons license:
At the bottom you will see that it is under an Attribution-NonCommercial-No Derivatives license.
Some other cool closeups on the mural; the mural is filled with lots of tongue in cheek political and anti-corporate symbols. First is a shot of
Reverend Billy and the Church of Stop Shopping
, hanging out with his anti-buddy Mickey Mouse:
Another cool little part is a reference to our buddy
Frank Chu and his 12 Galaxies conspiracy
; Frank Chu is a San Francisco standard, a crazy guy who walks around with a sign that says 12 Galaxies at every imaginable political and public gathering: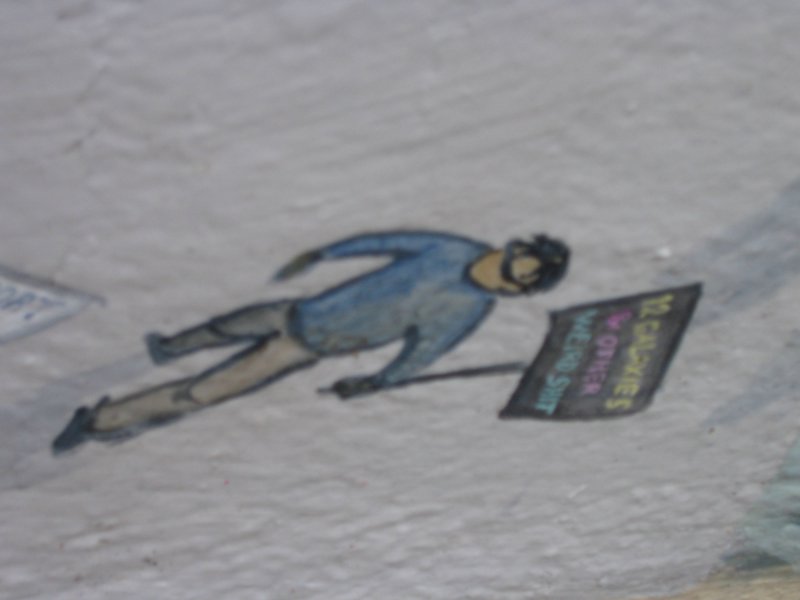 My favorite part of the mural is the final strip showing a possible future for San Francisco. It shows rooftop food gardens, with rooftop bridges connecting the buildings: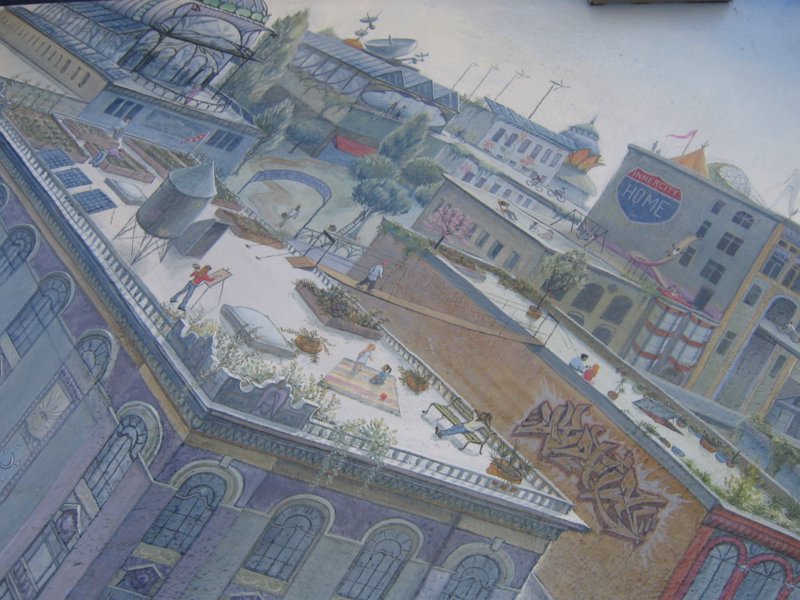 Next is a cool street scene, showing the "San Francisco Swap Center" and a huge
Cell Space
, but Cell Space #13. If you look closely you'll also see a cafe that serves not only coffee but humanities as well, including poetry and philosophy: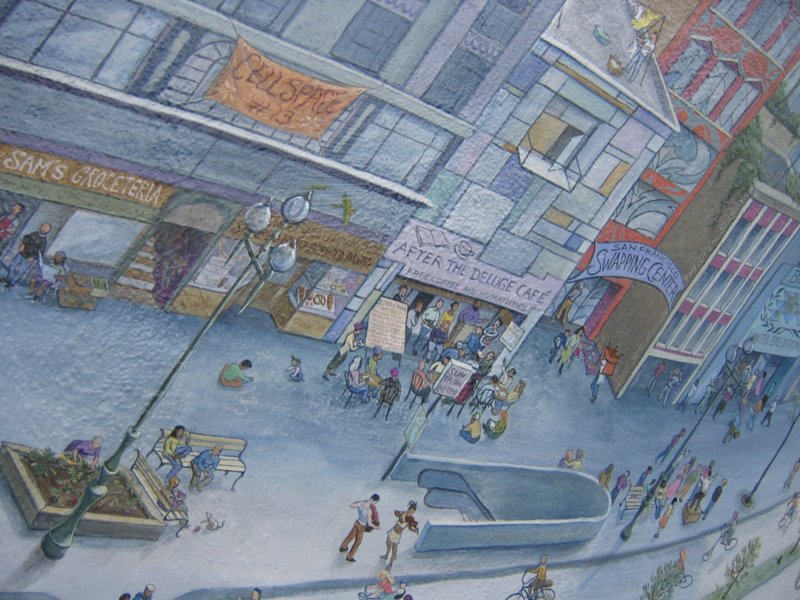 There's all sorts of bikes and strange cars that have solar power refuelling stations: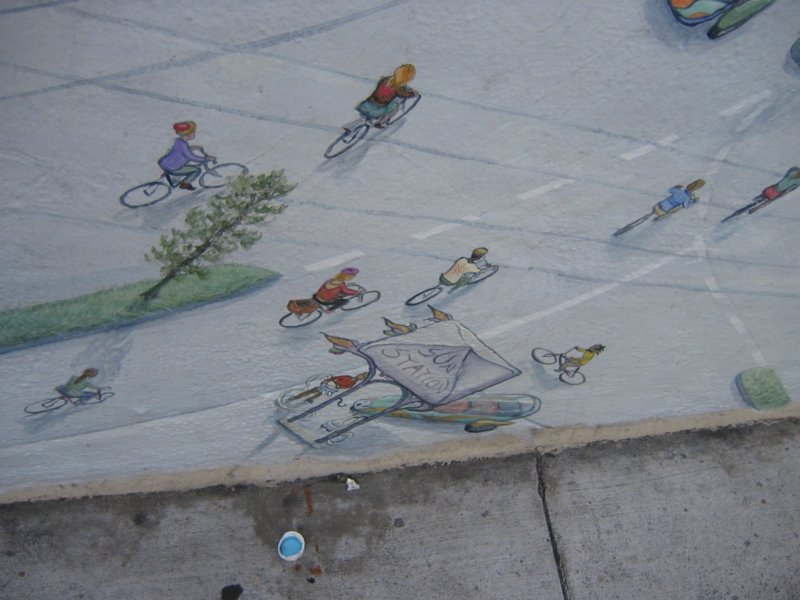 Including a firetruck that runs on biodiesel!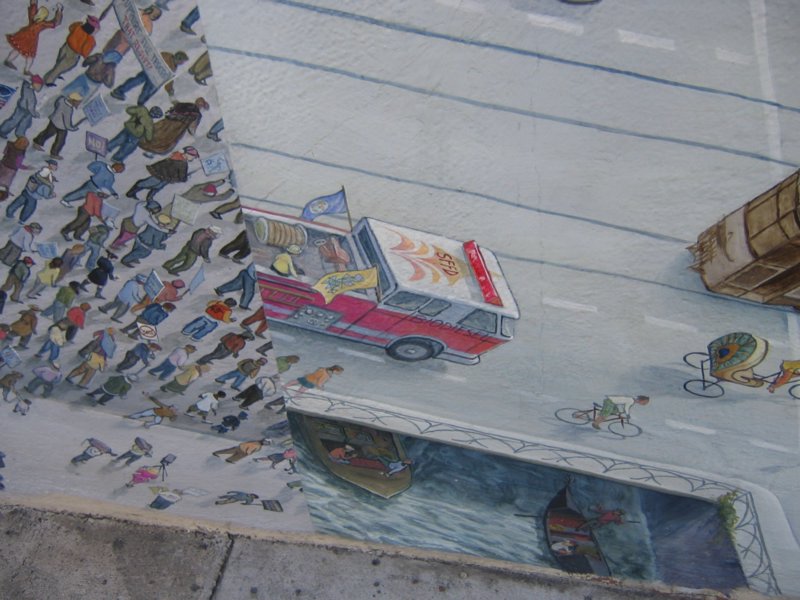 Thanks Mona Caron for making such a cool mural (thats the Attribution part of the license)!
Update:
Joi Ito
found an area on Mona Caron's site where she
describes her Market Street Mural in more detail
.
Update #2:
See a 5 minute VIDEO of the mural in progress (footage taken early December 2003) [via
www.monacaron.com
]:
mpg 5.3 MB
*
wmv 8 MB
*
mpg 18 MB
*
wmv 18 MB
Update #3:
A 12"x 36" poster of this mural is now available for $15 at the 300 Church St. Groceteria [Mapquest it], next to the mural. Support Mona and cool community murals by going and buying a poster!