Chris Hobbs at the Coworking Space
Chris Hobbs is checking out the coworking space today: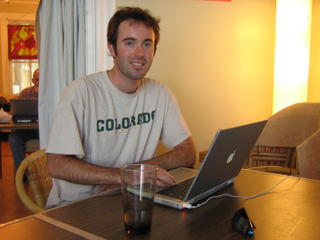 Chris is working on a cool AJAXian event calendar system (Evite must DIE). Chris and I used to work at
Random Walk
together, building enterprise systems for the security industry using J2EE. Thank God we don't do that anymore.
Why don't you try out coworking? Coworking is a way for writers and programmers to have community and structure. We meet on Monday and Tuesday in San Francisco, from 9 AM to 5:45 PM. Contact Brad Neuberg at 1-510-938-3263 or bkn3@columbia.edu for details.