The Solar DJ
I bumped into my buddy David Quattro this weekend at the
How Berkeley Can You Be festival
. David and I have been in the dancing community for years, going to things like
Dance Camp
together. David's a cool cat; he was in the Coast Guard until recently, and is really into
capoeira
.
David's had a dream for a few years to create a complete, mobile DJ setup completely run by solar power. He told me about this awhile ago, and it was great bumping into him as he has completely created what he set out to do.
David's created a full solar array that pumps out 400 watts continuously, fed to a battery array that can hold up to 24 hours of electricity, or 8 killowatt hours of storage. He's attached this to a pickup truck completely run by biodiesel, with a mobile DJ platform attached to this with giant speakers. Everything is mean, green, and portable.
Here's David in front of his solar array: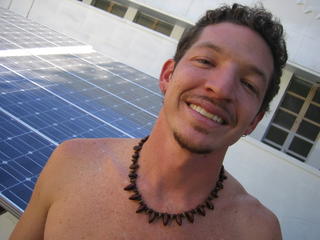 The battery array for storing solar power, located in a hidden compartment beneath the panels: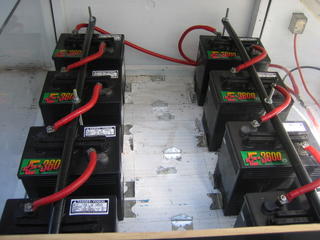 David's girlfriend rocking out on the mobile DJ platform: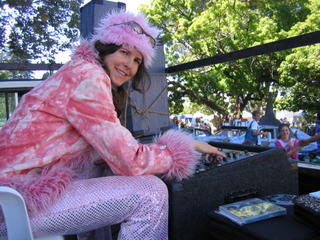 Another view of the solar power setup, coupled to the biodiesel pickup:
David, aka The Solar DJ, rents out his complete setup for parties and corporate events. Here's what's cool too; David's music equipment only draws about a hundred watts, leaving enough energy left-over to charge the rest of your party or meeting if you're out in the wilderness.
See
The Solar DJ's web site
or contact David directly at 510-520-8693. David's a great guy and easy to work with; this is a new business for him so I'm trying to support him. He also charges half price when working with schools, using his setup to explain solar power, biofuels, and renewable energy to students.